garden planters: beijing barrel planter gold - 52cm diameter
Make browsing easier & select Browse By Price or By Shop. Click on the products for more information & to buy them In Store.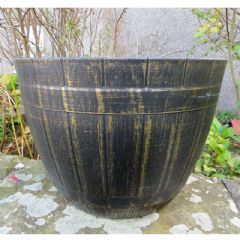 Beijing Barrel Planter Gold - 52cm Diameter
With a mix of classic design and eco-friendly recycled materials the distinctive Beijing Barrel Planter will look stunning when placed in your garden.
Made with recycled materialsHand-crafted finishSuitable for outdoor useLightweightGlazed finish
Dimensions: W52 x D52 x H45cm
Customer Note: These planters have pre-drilled drainage holes.